se the Cosmic Card to put your prospective clients right where you want them, in front of your presentation.

An new innovative medium, an interactive CD in the size of a business card, that fits perfectly in your clients wallet.

The Cosmic Card can set your company aside from the rest .

The Cosmic Card the business card of the future.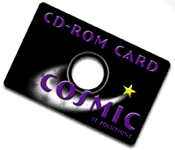 >>

For more information or a quote please contact us:

tel: 01543 481014
email: info@cosmicit.co.uk