osmic IT has teamed up with wireless broadband pioneer Tele2 UK, to provide businesses and home users a permanent connection to the Internet.
Tele2 has revolutionised the way users connect to the Internet with their wireless broadband service. It does not use outdated phone line technology like ADSL, nor is it an adapted digital TV service like Cable Modems. This enables Tele2 to offer a totally unique service; dedicated purely to Internet connectivity.

Tele2 Wireless-DSL
With tariffs between 512Kpbs-2Mbps; Tele2 can offer 'DSL-style' burstable connections or even wireless leased lines with committed data rates. Furthermore, Tele2's services can be tailored to your exact requirements.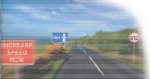 >>

For more information on wireless broadband please contact us:

tel: 01543 483 642
fax: 0870 136 4910
email: info@cosmicit.co.uk